DisplayPort 1.4 is the latest version of the DisplayPort standard, and it offers a number of significant improvements over previous versions. If you're looking for the best possible display experience, then a DisplayPort 1.4 cable is a must-have.
5 Lesser Known Facts about Displayport 1.4 Cable:
Here are five things you didn't know about DisplayPort 1.4 cable:
It can transmit 8K video at 60Hz. This means that you can connect a display that supports 8K resolution and get a smooth, stutter-free image.
It supports HDR. HDR (High Dynamic Range) is a new technology that provides a wider range of colors and contrast, resulting in a more lifelike image.
It can transmit 32 audio channels. This means that you can connect a high-end audio system and get the best possible sound quality.
It is bidirectional. This means that you can use the same cable to send and receive data. This is useful for applications such as gaming and VR, where you need to send data from your computer to your display and back again.
It is future-proof. DisplayPort 1.4 has a lot of bandwidth, so it will be able to support new features and resolutions that are developed in the future.
Our Fiber DisplayPort 1.4 Cable
Our Fiber DisplayPort 1.4 Cable is the perfect way to take advantage of all the benefits of the DisplayPort 1.4 cable we have mentioned above. In addition to these, our fiber DisplayPort 1.4 comes with numerous added benefits which are the result of constant R&D and innovations by our teams of highly qualified engineers.
Our fiber DisplayPort 1.4 cable is made with high-quality optical fiber, which provides superior signal integrity and eliminates signal loss. The cable is also very flexible, so it can be easily routed around your desk or entertainment center. In fact, our fiber DisplayPort 1.4 cable is capable of transmitting Ultra HD 8K video signals at a distance of over 985 ft without any signal degradation.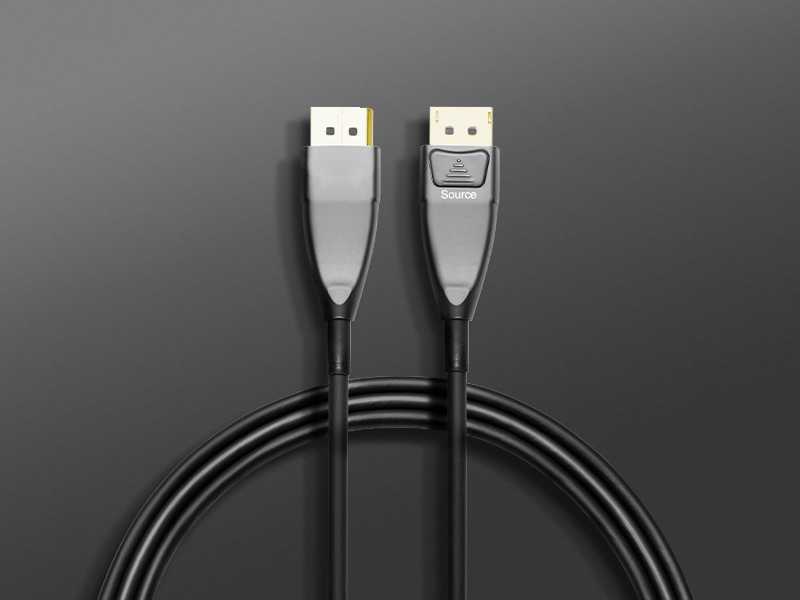 Moreover, we have also introduced all in one plug and play design in our fiber DisplayPort 1.4 cable which eliminates the need for additional modules such as signal boosters, transmitters, and receivers. This makes our cables highly efficient and compact at the same time.
In addition to its superior performance, our Fiber DisplayPort 1.4 Cable is also very affordable. It is backed by our research, innovation, and strict quality controls, so you can be confident that it will last for years to come.
Why Choose Us?
Koin Cable is one of the leading bulk manufacturers of high-quality DisplayPort 1.4 cables. We are committed to providing our customers with the best possible products and services at highly competitive pricing. To fulfill the challenges of any business, we have equipped ourselves with advanced equipment and an in-house R&D team who are always willing to put in their best to provide the best results. Whether it is a single piece or a bulk order, you can rest assured that we will take care of your business needs and provide the best quality bulk cables at extremely competitive pricing.
Visit our website today or contact us anytime to learn more about our products, pricing, and services.