USB C Optical Cables (AOC) are the best-uplifted connectivity solutions that utilize fiber optic technology to transmit data over longer distances. These types of cables are designed to overcome the limitations of traditional copper-based USB cables like signal degradation and distance limitations. The optical cables have numerous desirable characteristics to transmit data using light signals, allowing for faster and more reliable data transfer compared to traditional copper-based cables. These cables have various variants like USB 2.0, USB 3.0, and USB 3.1, with each version offering different data transfer rates and features.
Types of USB C Optical Cables:
There are numerous types of USB C Optical Cables in the market depending on terms of USB standards, cable lengths, and connector types. Some common types of USB AOCs:
USB 3.0 active optical cable:
It is designed to support the USB 3.0 specification. These are known as SuperSpeed USB and offer high-speed data transfer rates of up to 5 Gbps and are backward compatible with USB 2.0 devices as well. It extends USB connections over longer distances.
USB 3.1 active optical cable:
It is also known as SuperSpeed USB 10 Gbps or USB 3.1 Gen 2 which provides faster data transfer rates of up to 10 Gbps in requiring higher bandwidth.  
USB 3.2 active optical cable:
These types of cables can provide faster data transfer rates of up to 20 Gbps that allow ultra-high-speed USB connectivity.
It needs to note that the availability of specific types of USB AOCs may vary from one manufacturer to another.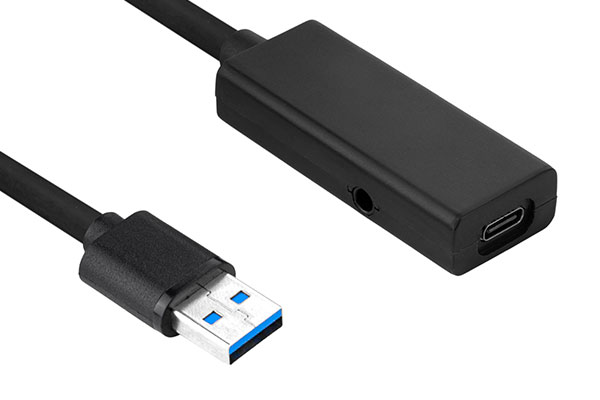 Features of USB C Optical Cable:
USB C Optical Cables are high-performance cables for extending the reach of USB connections while maintaining signal integrity. Some basic features of USB C Optical Cables are-
Thin and lightweight:
As USB AOCs are generally thin and lightweight, they are easy to handle and install compared to other types of long-distance USB solutions. This feature is particularly convenient when it comes to cable management and installation in constrained spaces.
Wide application compatibility:
These are compatible with several USB devices and applications, including computers, peripherals, storage devices, cameras, and audio/video equipment. These also can be used in professional settings, data centers, home theater setups, and environments requiring long-distance USB connectivity as well.
High-speed data transmission:
USB C Optical Cables are facilitations of high-speed USB protocols like USB 3.0, USB 3.1, and USB 3.2. These cables are structured to handle fast data rates, allowing for reliable and efficient transmission of data.
Extended distances:
USB AOCs have the sufficiency to extend USB connections over longer distances compared to traditional USB cables. Even, it can transmit data reliably over distances ranging from tens of meters to hundreds of meters, depending on the specific cable specifications.
Flexible and durable:
USB AOCs are structured to be flexible and durable that allows for easy routing and installation in various environments. These are often constructed with robust materials to withstand bending, pulling, and other forms of physical stress.
Where is the best place for buying USB C Optical Cables:
There are many manufacturing companies in the market, but Koincable is one of the best among them. We provide almost all types of optical cables and solutions, more than 17 years of experience makes us confident to meet various customers' needs, such as various USB C Optical Cables, optical HDMI cables, USB C optical cables, optical USB 3.0/ 3.1 cables, Fiber optic Displayport 1.4 cable and USB 3.0 extension cable, and support customized options if you are interested in our active optical cable, please contact us now to get a free quote.